External resource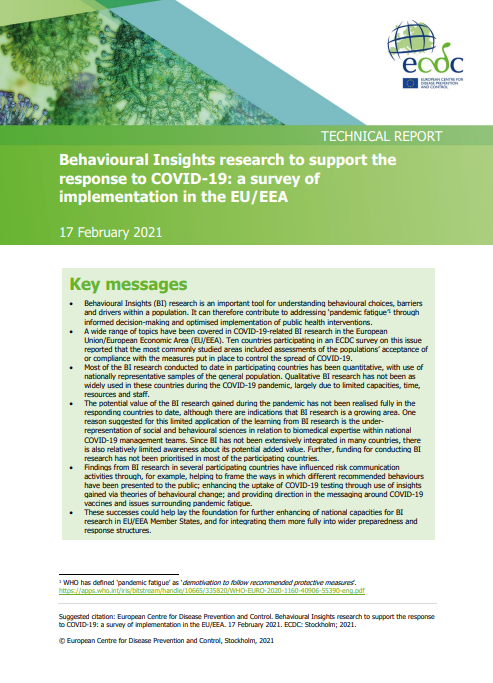 Behavioural Insights research to support the response to COVID-19: a survey of implementation in the EU/EEA
This Technical Report presents evidence about the current status of Behavioural Insights (BI) research being conducted in the ten EU/EEA Member States that responded to an ECDC survey, within the context of the COVID-19 pandemic. The focus is on identifying experiences, challenges, and key lessons learned in translating the findings from BI research into effective strategies for pandemic response, and for optimising risk communication activities. The work has been undertaken in the context of concern about sub-optimal compliance in some Member States to the non-pharmaceutical measures that are in place to reduce the spread of the SARS-CoV-2, and also with regards to the need to support the implementation of national COVID-19 vaccination programmes.
Executive summary
Key messages
Behavioural Insights (BI) research is an important tool for understanding behavioural choices, barriers and drivers within a population. It can therefore contribute to addressing 'pandemic fatigue' through informed decision-making and optimised implementation of public health interventions.
A wide range of topics have been covered in COVID-19-related BI research in the European Union/European Economic Area (EU/EEA). Ten countries participating in an ECDC survey on this issue reported that the most commonly studied areas included assessments of the populations' acceptance of or compliance with the measures put in place to control the spread of COVID-19.
Most of the BI research conducted to date in participating countries has been quantitative, with use of nationally representative samples of the general population. Qualitative BI research has not been as widely used in these countries during the COVID-19 pandemic, largely due to limited capacities, time, resources and staff.
The potential value of the BI research gained during the pandemic has not been realised fully in the responding countries to date, although there are indications that BI research is a growing area. One reason suggested for this limited application of the learning from BI research is the under-representation of social and behavioural sciences in relation to biomedical expertise within national COVID-19 management teams. Since BI has not been extensively integrated in many countries, there is also relatively limited awareness about its potential added value. Further, funding for conducting BI research has not been prioritised in most of the participating countries.
Findings from BI research in several participating countries have influenced risk communication activities through, for example, helping to frame the ways in which different recommended behaviours have been presented to the public; enhancing the uptake of COVID-19 testing through use of insights gained via theories of behavioural change; and providing direction in the messaging around COVID-19 vaccines and issues surrounding pandemic fatigue.
These successes could help lay the foundation for further enhancing of national capacities for BI research in EU/EEA Member States, and for integrating them more fully into wider preparedness and response structures.
The marked geographical disparity in responses from different regions of the EU/EEA in this study suggests that future steps towards building EU-wide capacity in BI research should include a particular focus on the countries not responding to the survey in order to ensure that the needs of these Member States are properly met.
Meanwhile, immediate steps can be taken to: (i) facilitate networking opportunities of BI experts in Member States via webinars and, eventually, face-to-face meetings; (ii) map the BI research being conducted in universities and in other social science research institutions across the EU, as a complement to the work being conducted and led by national authorities; and (iii) synthesise published data on aspects of behaviour that may have direct policy and programmatic value.